We have some storage for model of ABB TTR200Y0 RAIL-MOUNT TEMPERATURE TRANSMITTER , all 100% new and brand arigin .
Specification
General information
hange from one to two columns
CE Marking
The device fulfills all requirements for CE marking in
accordance with all applicable guidelines.
Electrical isolation
3.5 kV DC (approx. 2.5 kV AC), 60 s, input to output
MTBF time
190 years at 40 °C (104 °F) mean ambient temperature
Input filter
50 / 60 Hz
Switch-on delay
< 10 s (Ia ≤ 3.6 mA during switch-on cycle)
Warm-up time
5 minutes
Rise time t90
400 to 1000 ms
Measured value update
10/s, independent of sensor type and sensor circuit
Output filter
Digital filter 1st order: 0 to 100 s
Weight
180 g
Housing material
• Housing: polycarbonate
• Color: gray RAL9002
Encapsulation resin for the device
Polyurethane (PUR), WEVO PU-417
Installation conditions
• Mounting position: no restrictions
• Possible installations: Rail mounting (35 mm) in
accordance with EN 60175
Electrical connection
• Terminals with captive screws, plug-in with screw
connections
• Lines up to a maximum of 2.5 mm2 (AWG 14)
Dimensions
Refer to Dimensions on page 11.
Ambient conditions
Ambient temperature
• Standard: −40 to 85 °C (−40 to 185 °F)
• Restricted range during operation with explosion-proof
design:
see corresponding certificate
Transport / storage temperature
−40 to 85 °C (−40 to 185 °F)
Climate class in accordance with DIN EN 60654-1
Cx −40 to 85 °C (−40 to 185 °F) at 5 to 95 % relative air
humidity
Max. permissible humidity in accordance with
IEC 60068-2-30
100 % relative air humidity
Vibration resistance in accordance with IEC 60068-2-6
10 to 2000 Hz at 5 g, during operation and transport
Shock resistance in accordance with IEC 68-2-27
gn = 30, during operation and transport
IP rating
IP 20 or IP rating of the installation housing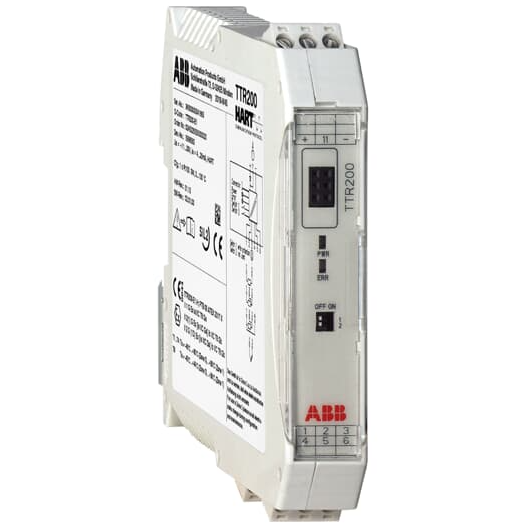 TTR200Y0
Need more production information for ABB TTR200Y0 , please contact me here.
My contact details
Telephone:86-027-85880977
Mobile :86-13545206420(Whatapp&Wechat is available)
Fax:86-027-85309780
Skype:Diana@hkxytech.com
E-mail: Diana@hkxytech.com or Dianatian118@gmail.com