High quality MITSUBISHI FR-E840-0040-4-60 1.5K FR-E840-0060-4-60 2.2K FR-E840-0095-4-60 3.7K in stock with good price.
Compact Design - Save space with a compact footprint to control 3-phase motors up to 7,5 kw (with expansion in the future until 30kw) at 200V, 400V and 600V.
Dual Overload Rating - Achieve top performance in smaller frame sizes with light duty (LD) and normal duty (ND) overload current ratings.
Auto-tune to IM & PM Motors - Setup and commission quickly and easily without time-consuming tuning or the need for on-site support.
RS-485 and "Dual-Port" Ethernet Protocol Models - Switch between Ethernet protocols simply by changing internal parameters. The FR-E800 series inverters support a variety of open networks without the need for additional option cards.
MELSEC 2K Step PLC - Reduce internal components and save panel space, eliminating wiring time, and reducing system setup times. Operation of the system can be customized by the FR-E800's built-in PLC feature
Inverter-to-Inverter Linking - Create small-scale systems by connecting multiple VFDs via Ethernet protocols. The communication between multiple inverters is carried out through the inputs/outputs and built-in PLC.
Extended Environmental Rating - FR-E800 operates in ambient temperatures from -20°C to 60°C (-5 to 140°F) and the control card is conformal coated to withstand harsh environments.
Corrosion Alert System - FR-E800 is the world's first system to identify signs of damage caused by hydrogen sulfide or other corrosive gases. The operator receives a notification when the production environment needs to be improved or risk the possibility of unplanned downtime.
Life Diagnostics Function - Analyze and determine remaining lifetime of critical components, such as capacitors, contact relays, cooling fan, and inrush current limit resistor.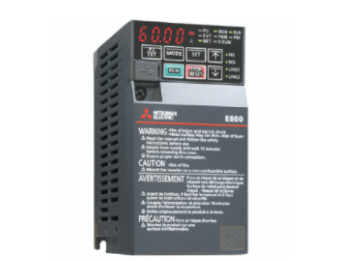 FR-E840-0040-4-60 1.5K
FR-E840-0060-4-60 2.2K
FR-E840-0095-4-60 3.7K
Need more production information for MITSUBISHI FR-E840-0095-4-60 3.7K , please contact me here.
My contact details
Telephone:86-027-85880977
Mobile :86-13545206420(Whatapp&Wechat is available)
Fax:86-027-85309780
Skype:Diana@hkxytech.com
E-mail: Diana@hkxytech.com or Dianatian118@gmail.com