100% brand new and stock ABB TTH200E1HBSM5 Head-mount temperature transmitter for sale.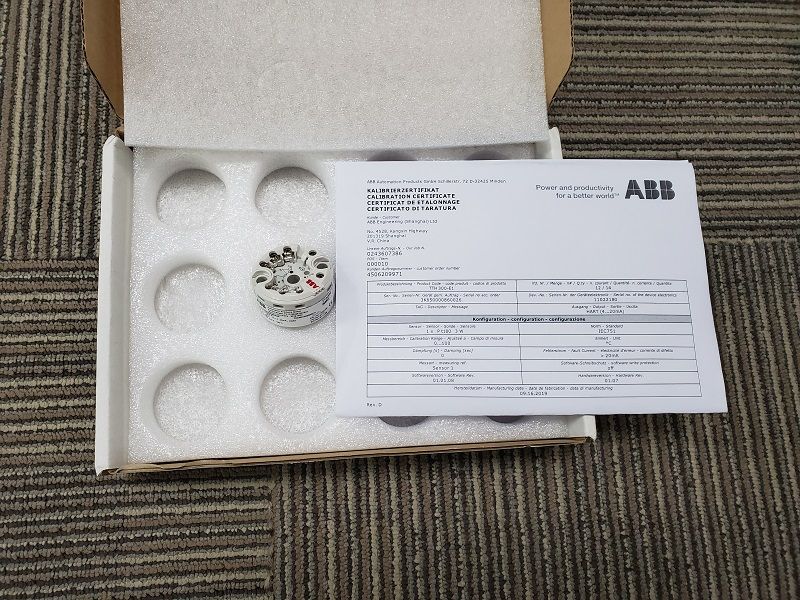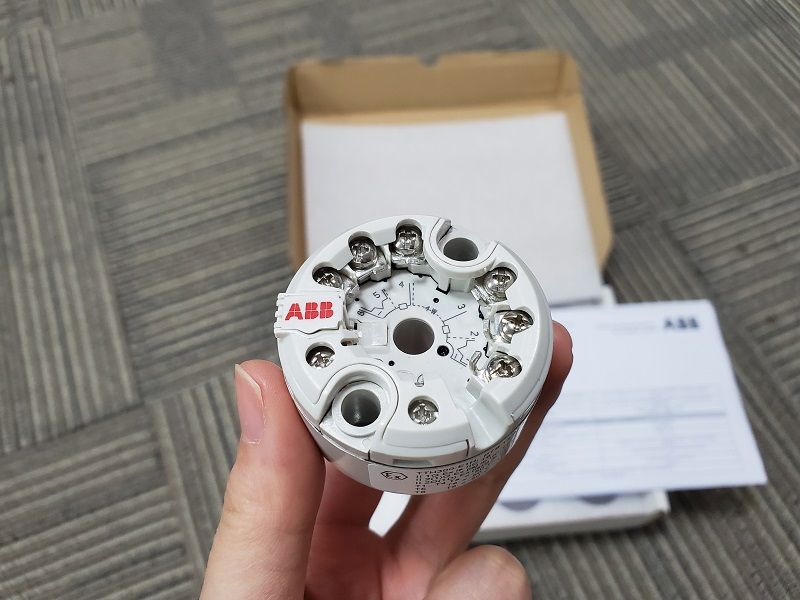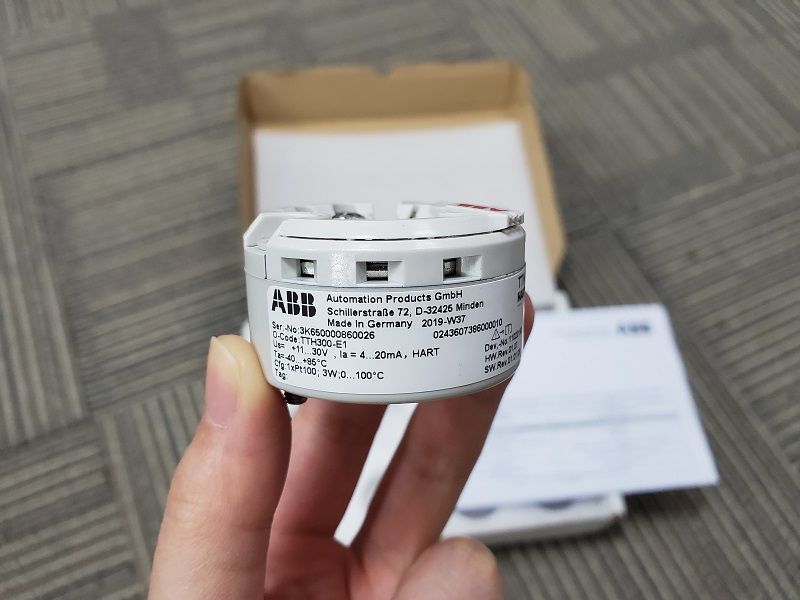 Overview
The TTH200 is provided for all HART standard applications in temperature measurement with one sensor. The transmitter supports the same functionality as the TTH300, but without sensor redundancy and sensor drift monitoring. It can be configured with ABB-tools such as DAT200 (Asset Vision Basic) via DTM, Handheld via EDD, FIM (Field Information Manager) or any standard tool using FDI-/FDT-Technology.
The TTH200 HART temperature transmitter is the standard device of the new TTx200 / TTx300 product family in proven two-wire technology.
TTH200 Y0.H.BS
TTH200 E1 H BS
TTH200E1HBSM5
TTH200Y0
TTH200S1
TTH200E1
TTH200-Y0-H-BS-C6-EP-GHE-H1-D3-SF-M5
TTH200Y0HBSM5
TTH200Y0HBSH1M5
TTH200Y0HBSEMM5
TTH200Y0HBS
TTH200 Y0-H-BS-M5
TTH200-E1H
TTH200-Y0HBS
TTH200 YO/OPT
TTH200 Y0-H-BS-M5
ABB TSP111-YO-K1-N1-U4-S2-H8-P5-S1-B1-Y2 Temperature sensor
ABB TSP111-Y0-Y0-Z9-U4-S2-H8-P5-S1-B1-Y2 Temperature sensor
ABB TSP111Y0Y0W1Z9S1D6P6S3B2H4AZH1U1M5 Temperature sensor
ABB TSP111.A1.Z9.N1.Z9.S1. D6.P2.B2.B3.H7.AZ.C6.P3.V7.U2.L1.M5.T1 Temperature sensor
ABB TSP111.Y0.K1.G1.Z9.T1.D8.K2.T2.B2.Y1 Temperature sensor
ABB TSP111-Y0.Y0.W3.W2.D1.D6.P4.B2.B1.Y1/OPT Temperature sensor
ABB TSP111-Y0.Y0.W3.Z9.D1.D6.P4.B2.B6.Y1/OPT Temperature sensor
ABB TSP111-YO.K1.N2.Z9.T1.D6.K2.T2.B3.H4/OPT Temperature sensor
ABB TSP121.Y0.S2.A2.F03.B1.Z9.Z9.T1.K1.T2.B2.Y1 Temperature sensor
ABB TSP121.Y0.S2.A3.S01.A7.Z9.Z9.T1.K1.T2.B2.Y1 Temperature sensor
ABB TSP121.Y0.S2.A1.A02.A3.Y0.Z9.T1.K1.T4.B2.H4-AZ Temperature sensor
ABB TSP121.Y0.S2.A3.S01.A7.Z9.Z9.S1.P2.B2.B2.Y1 Temperature sensor
ABB TSP121.Y0.S2.A2.F05.B1.Z9.Z9.T1.K1.T2.B2.Y1 Temperature sensor
ABB TSP121.Y0.S2.A3.S01.A7.Z9.Z9.T1.K1.T2.B2.Y1 Temperature sensor
ABB TSP131-Y0.S1.P3.S04.K1.N2.P5.P1.T1.K2.T1.B2.Y1.CG.V1 Temperature sensor
ABB TSP311-A1-K1-N4-W5-S1-D6-P2-B2-S4-H7-AZ-C6-U4-M5-W6-L1-T1+DL0180 Temperature sensor
ABB TSP311A5Y0W1Z9T1D6K1T1L4H5AZU1L2M5T1 Temperature sensor
ABB TSP331-A1S1P2F11Z9N3Z9P1T1E1T4L1H2A5C6H8M2T1 Temperature sensor
ABB TSP321-Y0S1A2F11Z9U7N7NT1E1T4L1H1ALC6SZH8N2T1 Temperature sensor
ABB TSP331-Y0S1P2F11Z9N3Z9P1T1E1T4L1H1A5C6H8M2T1 Temperature sensor
ABB TSP321.Y0.S1.A2.F11.A4.Z9.Z9.T1.K1.T2.L1.H4.AZ.CF.V6.M5 Temperature sensor
ABB TSP321.Y0.S1.A2.F11.A4.Z9.Z9.T1.K1.T2.L1.H4.AZ.CF.V6.M5 Temperature sensor
ABB TSP321.Y0.S1.A2.F11.A4.Z9.Z9.T1.K1.T2.L1.H4.AZ.C4.V6.M5 Temperature sensor
ABB TSP321-Y0.S1.A2.F11.A2.Z9.Z9.Z9.T1.K1.T2.L1.H1.V6.AJ Temperature sensor
ABB TSP331.A1.S2.P2.F11.K1.N3.W2.P1.S1.P2.S1.L4.F4.C2.U4.L2.T1 Temperature sensor
ABB TSP331-A5S1P2F17K1N3W2P1S1P2S1L4H5 Temperature sensor
ABB TSP331.A1.S2.P2.F12.Z9.N2.P5.S1.P2.B2.L2.H5.AZ.C2(&CD).P5.D6.SM.F6.U1.M5.T1 Temperature sensor
ABB TSP331.A1.S2.P2.F12.Z9.N2.P5.D1.P2.B2.L2.H5.AZ.C2(&CD).P5.D6.SM.F6.U1.M5.T1 Temperature sensor
ABB TSP311A5Y0W1Z9T1D6K1T1L4H5AZU1L2M5T1 Temperature sensor
ABB TSP331-A1S1P2F11Z9N3Z9P1T1E1T4L1H2A5C6H8M2T1 Temperature sensor
ABB TSP321-Y0S1A2F11Z9U7N7NT1E1T4L1H1ALC6SZH8N2T1 Temperature sensor
ABB TSP331-Y0S1P2F11Z9N3Z9P1T1E1T4L1H1A5C6H8M2T1 Temperature sensor
ABB TSP331.Y0.S1.P3.S1.P3.S06.K1.N3.P3.P1.S1.P2.B2.L4.H4.AZ Temperature sensor
ABB TSP331.Y0.S1.P3.S06.K1.N3.P3.P1.S1.P2.B2.L4.H4.AZ.U2.L2.M5. Temperature sensor
ABB TSP331.Y0.S1.P3.S06.K1.N3.P3.P1.S1.P2.B2.L4.H4.AZ.U2.L2.M5 Temperature sensor
ABB TSP331.Y0.S1.P3.S1.P3.S06.K1.N3.P3.P1.S1.P2.B2.L4.H4.AZ.XX.L2.M5 Temperature sensor
ABB TSP331.A1.S1.P2.F11.K1.N4.Z9.P1.S1.P2.S1.L1.H5.AZ.U5.T1 Temperature sensor
ABB TSP331-A1-S1-P2-F12-K1-N4-Z9-P1-S1-P2-B2-S4-H7-AZ-C2-C6-U4-L1-M5-T1 Temperature sensor
ABB TTF300-Y0.C.1.H.BS Field-mount temperature transmitter
ABB TTF300-Y0C1/OPT Field-mount temperature transmitter
ABB TTF300Y0C1HBS Field-mount temperature transmitter
ABB TTF300.E4.D.2.H.BF-C6..GHA.K2.U5..T0..I1..C05.M5 Field-mount temperature transmitter
ABB TTF300-E1C4HBSK2 Field-mount temperature transmitter
ABB TTF300 E1D2PBSCSEPGHAK2U5SET0MW Field-mount temperature transmitter
ABB TTF300E1HBS Field-mount temperature transmitter
ABB TTF300.E3.C.2.H.BS-K2 Field-mount temperature transmitter
ABB TTF300E3C1HBFM5 Field-mount temperature transmitter
ABB TTF300-E1-A-1-H-BS-C4-EP-K2-T0-M5 Field-mount temperature transmitter
ABB TTF300.S3.C2.H.BS..EM.K2.....M5 Field-mount temperature transmitter
ABB TTF300-Y0C2HBSU5M5 Field-mount temperature transmitter
ABB TTH200 Y0.H.BS Head-mount temperature transmitter
ABB TTH200 E1 H BS Head-mount temperature transmitter
ABB TTH200E1HBSM5 Head-mount temperature transmitter
ABB TTH200Y0 Head-mount temperature transmitter
ABB TTH200S1 Head-mount temperature transmitter
ABB TTH200E1 Head-mount temperature transmitter
ABB TTH200-Y0-H-BS-C6-EP-GHE-H1-D3-SF-M5 Head-mount temperature transmitter
ABB TTH200Y0HBSM5 Head-mount temperature transmitter
ABB TTH200Y0HBSH1M5 Head-mount temperature transmitter
ABB TTH200Y0HBSEMM5 Head-mount temperature transmitter
ABB TTH200Y0HBS Head-mount temperature transmitter
ABB TTH200 Y0-H-BS-M5 Head-mount temperature transmitter
ABB TTH200-E1H Head-mount temperature transmitter
ABB TTH200-Y0HBS Head-mount temperature transmitter
ABB TTH200 YO/OPT Head-mount temperature transmitter
ABB TTH200 Y0-H-BS-M5 Head-mount temperature transmitter
ABB TTH300E1HBS Head-mount temperature transmitter
ABB TTH300E1HBF Head-mount temperature transmitter
ABB TTH300E1HBSD4M5 Head-mount temperature transmitter
ABB TTH300S1Y0 Head-mount temperature transmitter
ABB TTH300.Y0.H.BS Head-mount temperature transmitter
ABB TTH300.Y0/OPT Head-mount temperature transmitter
ABB TTR200-Y0-H.BS Rail-mount temperature transmitter
ABB TTR200.E1.H. BS.M5 Rail-mount temperature transmitter
ABB TTR200Y0HBSMW Rail-mount temperature transmitter
ABB TTR200-Y0.HBS Rail-mount temperature transmitter
ABB TTR200.Y0.H.BS Rail-mount temperature transmitter
High quality ABB SensyTemp TSC400 industrial thermometers
High quality ABB SensyTemp TSC420 industrial thermometers
High quality ABB SensyTemp TSC430 industrial thermometers
High quality ABB TTF300 Field-mount temperature transmitter
High quality ABB TTF300-W WirelessHART temperature transmitter
High quality ABB TTH200 Head-mount temperature transmitter
High quality ABB TTH300 Head-mount temperature transmitter
High quality ABB SensyTemp TSH200 High temperature thermometer
High quality ABB TSH210 High temperature thermometer
High quality ABB TSH220 High temperature thermometer
High quality ABB TSH250 High temperature thermometer
High quality ABB TSM800 Multipoint temperature sensor
High quality ABB SensyTemp TSP100 Temperature sensor
High quality ABB SensyTemp TSP111 Temperature sensor
High quality ABB SensyTemp TSP121 Temperature sensor
High quality ABB SensyTemp TSP131 Temperature sensor
High quality ABB SensyTemp TSP300 Temperature sensor
High quality ABB SensyTemp TSP311 Temperature sensor
High quality ABB SensyTemp TSP321 Temperature sensor
High quality ABB SensyTemp TSP331 Temperature sensor
High quality ABB TSP300-W WirelessHART temperature sensor
High quality ABB TSP311-W WirelessHART temperature sensor
High quality ABB TSP321-W WirelessHART temperature sensor
High quality ABB TSP331-W WirelessHART temperature sensor
High quality ABB TSP341-W WirelessHART temperature sensor
High quality ABB SensyTemp TSP411 Temperature sensor
High quality ABB TTR200 Rail-mount temperature transmitter
High quality ABB SensyTemp TSHY Sanitary application thermometer
High quality ABB TSW400 Thermowell